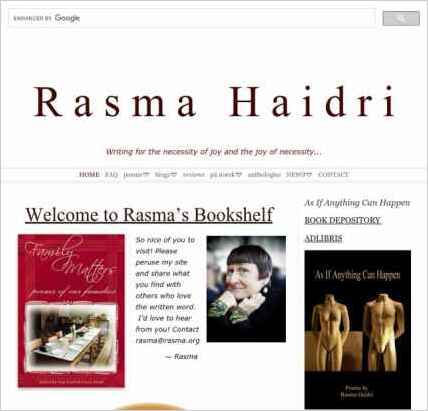 Sandvox was the choice for Rasma Haidri to build her website. She chose the "Clean Sheets" design for the site. People may want to visit the site if they are looking for poetry, writing, Norwegian poems, norske tekster.
Sandvox features used for this site:Blog, External Page, Custom Collection Index, Site Map, Contact Form, Amazon.com, RSS Feed Object, Other Objects, Editing HTML of text
---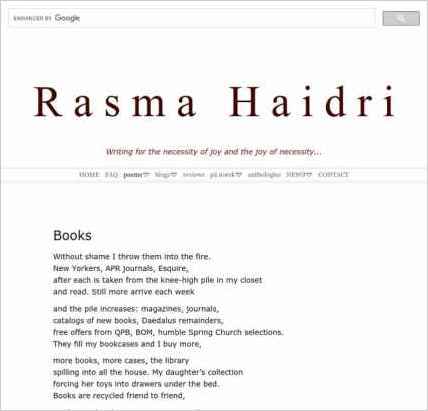 Describe your website.
Rasma's Bookshelf displays samples of my writing, such as poems, and blogs, because people often ask where they can read some of my work. I would also like to promote the publishers of anthologies that have published me. It is also a place to collect online reviews of my work, and link to my textbooks. Since I also write in Norwegian, my Norsk section shows poems (dikt) and excerpts from my newspaper column (prosa).
Who is the target audience for your website?
My website will be read by adult readers of literature, especially poetry, in English-speaking countries and in Norway. My anthologies are from many different countries, so there is a wide international audience for my website. Visitors to websites like mine tend to be primarily women writers. People interested in learning more about creative writing will also visit my site, as many of my blogs are about writing.
Tell us a story about this website.
When I got an email from an old acquaintance in Tennessee who assumed the stagnation of my website signaled my early demise, I knew I needed to get rasma.org updated, pronto! I got the new site done in a week using Sandvox, and have updated it numerous times since, so I feel a whole new facility with using the Web. It's almost like the old days when I got my first Mac and discovered iWeb, something that made many people think I was a graphic designer. No, I said, I just got a Mac.
Why did you use this Sandvox design?
I wanted something clean and simple, that allowed me to use the signature photo of my old website, my bookshelf. Whereas my old site had hyperlinks on all the books and doodads in the photo, I looked for a design that would allow me to do this. Alas, that was not possible, but I was able to avoid automatic color schemes and banners, which gave my site a unique look.
---
---
www.SandvoxSites.com/3376