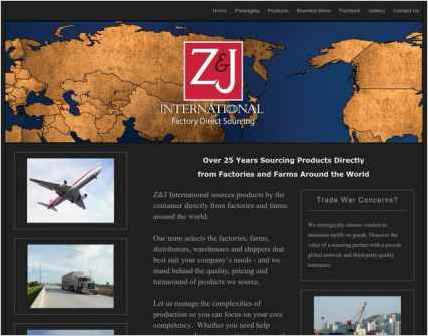 Sandvox was the choice for Cobie Graber to build her website. She chose the "Kryptonite Left Sidebar" design for the site. People may want to visit the site if they are looking for importing and exporting of items in quantity.
Sandvox features used for this site:Photo Grid, Custom Collection Index, Contact Form, Other Objects, Google Integration
---
Describe your website.
This website showcases the variety of items that Z&J International sources around the globe. The objective is to make it easy for potential customers to understand how we can help them find what they need.
Who is the target audience for your website?
Mid-size companies that purchase items in large quantities can improve bottom line growth by letting Z&J handle their supply chain management.
What is the advantage of your website over others?
This website uses slideshows and a gallery to showcase the variety of products we source. It also incorporates case studies to demonstrate our proven track record.
Why did you use this Sandvox design?
We thought that the size of this particular site and the black background made it appealing to showcase the kind of products we source.
---
---
www.SandvoxSites.com/3385