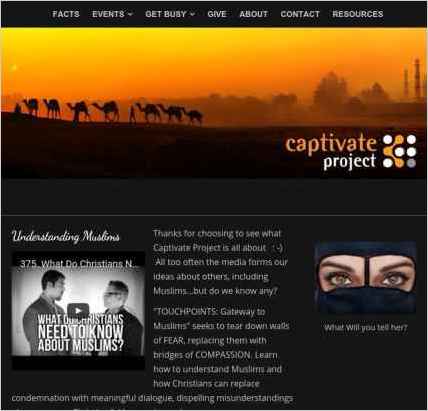 Stephen Bennett used Sandvox to build this website. He chose the "Blueball Reactive Dark 3" design for the site.
Captivate Project
(Website is no longer listed here.)
Sandvox features used for this site:External Page, Contact Form, Amazon.com, QuickTime Audio/Video, RSS Feed Object, Raw HTML Object, Code Injection, Google Integration
---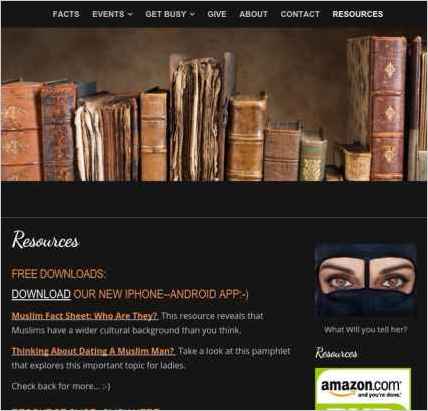 Describe your website.
Captivate Project exists to produce a friendly conversation between people of different religious faiths, including Muslims, Christians, and Jews. It provides a gateway to meaningful dialogue through multimedia, seminars, and overseas experiences. It is our hope that by dispelling myths and inaccurate information, all faiths can find greater clarity in what they truly believe and hold dear and precious.
Who is the target audience for your website?
I think that students of religion, adherents of Christianity and Islam will find something to like about the resources on our website, especially the younger generation from 20-40 years of age.
What is the advantage of your website over others?
Instead of promoting only our materials and media, we are more of a portal to the few multimedia resources that are out there for those that wish to dialogue with Muslims and be understood by Muslims as Christians.
Tell us a story about this website.
When I customized my website to work with an iTunes and Android app, my readership increased by several hundred people within a few weeks. I have been invited by groups to come and demo my website and app and to tell them more about our nonprofit.
Why did you use this Sandvox design?
i wanted the website to look well both on the desktop and on cellphones. That's why I chose a responsive design.
What techniques did you use to build this website?
I used Page Injection to put custom banners on different pages. I made parallel pages without menus to integrate with my itunes/Android app to follow their rules regarding the need to launch outside the app for donations. Because the design of the app matched the design of the website...and vice versa. The user experience is relatively seamless except to the most careful observer. I also worked on Arabic menus.
---
---
www.SandvoxSites.com/3347