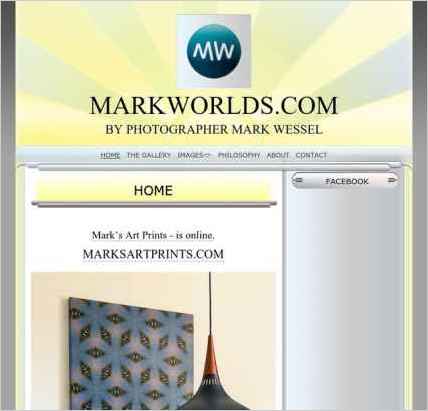 Sandvox was the choice for Mark Wessel to build his website. He chose the "Sunburst" design for the site. People may want to visit the site if they are looking for beautiful photographs.
Sandvox features used for this site:Photo Grid, Contact Form, Other Objects, Code Injection, Google Integration
---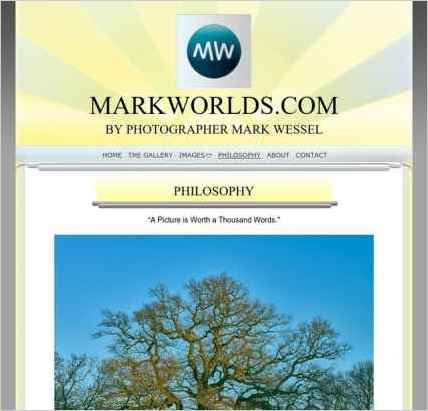 Describe your website.
My main thoughts about my website revolve around giving visitors a positive experience through my images, and making them feel at home. I describe a bit about myself and my philosophy - concerning the images I make - to inform viewers about my extensive background in photography and my purpose with this wonderful and exciting medium: That - "Beauty is All Around You."
Who is the target audience for your website?
All sorts of people would enjoy visiting my website: Young and old; male or female; from any country.
What is the advantage of your website over others?
I think people know and appreciate quality, when they see it ( . . . and feel it).
Tell us a story about this website.
Well - in general - my Sandvox site has given my pictures and my image projection - a big, noticeable boost. Things just look much better - more professional.
Why did you use this Sandvox design?
The Sandvox design I´m using now, I chose for it´s retro - futuristic look. The beautifully crafted lines, backgrounds and colors - are very positive - in my opinion, and the rising sun and it´s rays shining upwards at the top of the pages - is just awesome. I'm very much into sci-fi, and when science and technology are combined with a positive outlook on life - I'm all for it. This is the feeling I get, when looking at the particular Sandvox design, which I´m using now.
What techniques did you use to build this website?
Other than adding my images and a logo, which I designed myself, I made my own line from a colored photo of a pattern made with a random pattern-making app to separate text and images from the share buttons on the lower part of the pages.
---
---
www.SandvoxSites.com/3355