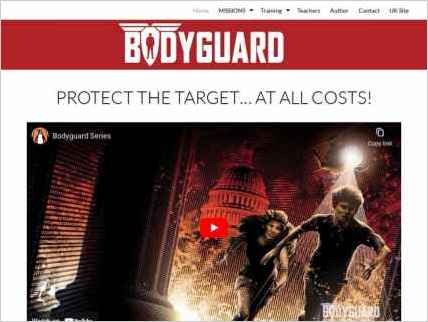 To build "Bodyguard Books - Official US Website," Chris Bradford chose Sandvox. He chose the "Lithium Red" design for the site. People may want to visit the site if they are looking for Bestselling action books for young readers (US editions).
Sandvox features used for this site:External Page, Photo Grid, Site Map, Contact Form, YouTube, Editing HTML of text, Raw HTML Object
Visit Bodyguard Books - Official US Website »
---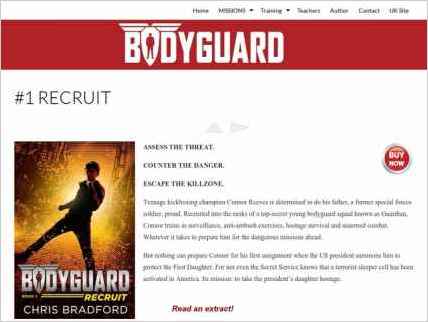 Describe your website.
The official US website for the bestselling series of BODYGUARD books by award-winning author Chris Bradford. Read full mission briefings for each book, along with exclusive extracts, and listen to audio clips. Online bodyguard training and tips for new recruits and readers. Skype author visit information for teachers and librarians. Contact the author.
Who is the target audience for your website?
This website is targeted at young readers (middle-grade 9+), reluctant readers, and parents looking for engaging and action-packed books. The books appeal to both boys and girls. Teachers and librarians will find the resources very helpful in encouraging literacy. The website is specifically for American readers and the United States location.
What is the advantage of your website over others?
This is the official website for the US editions of the BODYGUARD books. The books differ from the UK editions as they are split into episodes for "binge reading" and have exclusive bonus chapters.
Tell us a story about this website.
In order to write the series, I trained and qualified as a professional bodyguard. This is what I call « method writing » - it's similar to an actor's method. So I acquired skills in unarmed combat, defensive driving, tactical firearms, threat assessments, surveillance, and even anti-ambush exercises ! Now when I visit schools, I demonstrate to the students these techniques and bring the Bodyguard books to life !
Why did you use this Sandvox design?
I choose Lithium Red for its clean cut look and excellent photo visuals. I loved the option of replacing the banner and the drop down menus.
---
---
www.SandvoxSites.com/3402