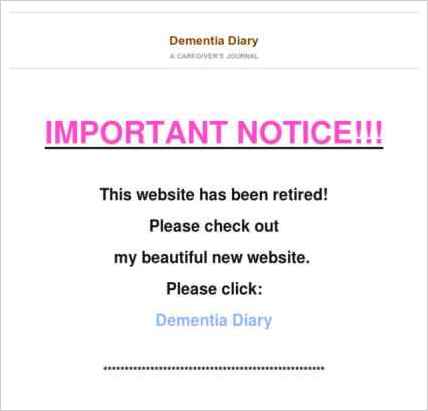 To build "Dementia Diary, A Caregiver's Journal," Robert Tell chose Sandvox. He chose the "Distinction" design for the site.
Dementia Diary, A Caregiver's Journal
(Website is no longer listed here.)
Sandvox features used for this site:Blog, Other Objects, Editing HTML of text, Raw HTML Object, Code Injection, Google Integration
Visit Dementia Diary, A Caregiver's Journal »
--- Describe your website.
To Sell my book: "Dementia Diary" the home page refers surfers to my personal comment about being a caregiver. For those that want to know more about the author a page of my personal history is offered. I've been lucky to receive many great reviews and testimonials that, I hope, will encourage caregivers to actually buy the book. I also maintain a blog which to date, has achieved a following of eldercaregivers.
Who is the target audience for your website?
Cargiver's of loved one's suffering from Alzheimer's Disease and other dementias.
What is the advantage of your website over others?
Using compassion and humor, Dementia Diary focuses on caregiver burnout and is a portable support system for caregivers. It's also one of the few books on the topic written by a male caregiver and that provides a man's perspective on a family task usually performed by women.
Tell us a story about this website.
My website has promopted many caregivers to write and tell me how important my book has been to them in dealing with their own dementia caregiving situations.
Why did you use this Sandvox design?
I chose a design that is pleasing to the eye, attractive, and that I think encourages surfers to linger and check out all pages.
What techniques did you use to build this website?
I went to websites offering non-copyrighted images and copied and pasted several of these into my site to enhance the visual impact.
---
---
www.SandvoxSites.com/219