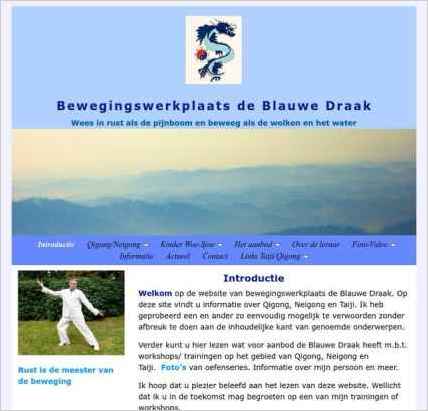 Maurice WM Brands used Sandvox to build this website. He chose the "Dolphin Dance" design for the site. People may want to visit the site if they are looking for Qigong Chinese exercises for heath and wellbeing.
Sandvox features used for this site:External Page, Photo Grid, Custom Collection Index, Site Map, Contact Form, YouTube, QuickTime Audio/Video, Other Objects, Raw HTML Object, Google Integration
Visit Bewegingswerkplaats de Blauwe Draak »
---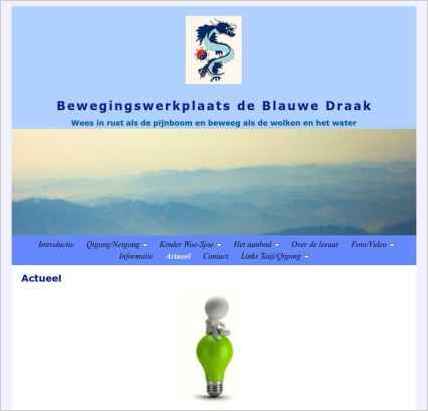 Describe your website.
My goals: to offer people information about Qigong and also to [offer] them the possibility of attending trainings and workshops on Qigong of very good quality and at high level, so that they can enrich their lives on a daily basis. And, all at affordable prices.
Who is the target audience for your website?
People in the age of 18-100 years. From all walks of life.
Everyone is welcome. No matter what religion, faith or beliefs they have. Sick, healthy people – no discrimination. At this moment I am focusing on working people who have busy daily lives.
What is the advantage of your website over others?
It is a clear, simple website with text and visual aspects in balance.
Tell us a story about this website.
I got several compliments. My sister told me It looks great and some friends want [me to] help them build their websites with Sandvox.
What techniques did you use to build this website?
Raw HTML to embed Google videos. I just did it yesterday for the first time.
Also, linking to other pages in the website is very useful because you make it easy to visit other pages.
And, I recently made a connection to my business page on Facebook.
---
---
www.SandvoxSites.com/3374