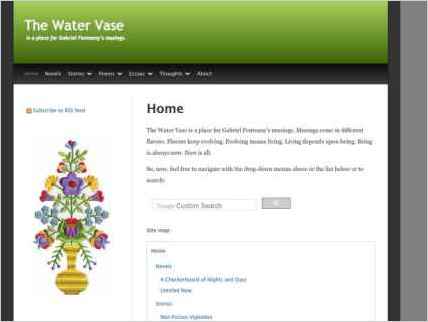 Gabriel Fenteany used Sandvox to build this website. He chose the "Carbone Green" design for the site. People may want to visit the site if they are looking for Gabriel Fenteany, musings, essays, poems, philosophy,.
Sandvox features used for this site:Blog, External Page, Custom Collection Index, Site Map, Contact Form, YouTube, QuickTime Audio/Video, RSS Feed Object, Google Integration
---
Describe your website.
My website is about my thoughts and musings on life, art, science, society, philosophy, spirituality, and related topics (in other words, anything and everything)!
Who is the target audience for your website?
Everybody, certainly every seeker, every person who longs for more, who asks questions and longs for answers.
What is the advantage of your website over others?
I am in earnest, not looking for any remuneration. I just want to share my thoughts and help others.
Why did you use this Sandvox design?
Classy, simple, black-on-white or vice versa always offers the highest readability because of maximal contrast.
---
---
www.SandvoxSites.com/3365