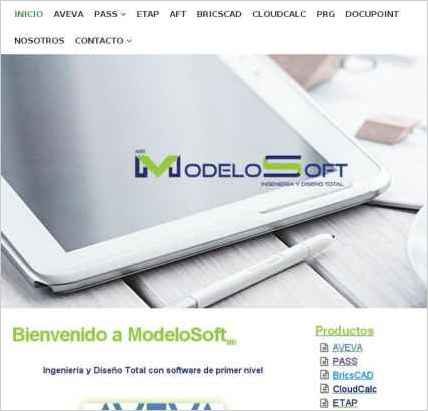 Vicente Lopez used Sandvox to build this website. He chose the "Blueball Flexor Green" design for the site. People may want to visit the site if they are looking for Total Engineering and Design.
Sandvox features used for this site:Blog, Site Map, Contact Form, YouTube, Editing HTML of text, Raw HTML Object, Code Injection, Google Integration
---
He entered his answers in Spanish.
Describe your website.
Modelosoft helps engineers and designers to find out how software from Intergraph, ETAP, Paulin Research Group, Applied Flow Technology and Docupoint helps them [achieve] success and [remain] within the project budget. Engineers can acquire software, [receive] training and be supported.
Who is the target audience for your website?
Mechanical, chemical, civil, drafters, piping designers and surveyors.
What is the advantage of your website over others?
It is the only one in Mexico that offers this kind of overview. We offer 20+ years of experience [for these] services including support and training.
Tell us a story about this website.
Before using Sandvox, we [had issues] since our main office in America warned us we needed to rebuild a website to comply with their international standard and [present] a good image. Sandvox helped us. Intergraph reviewed our web site and it was approved.
Why did you use this Sandvox design?
It was quite configurable for [our needs] and gives us a quick way to have our site ready to be viewed using mobile devices.
---
---
www.SandvoxSites.com/3371