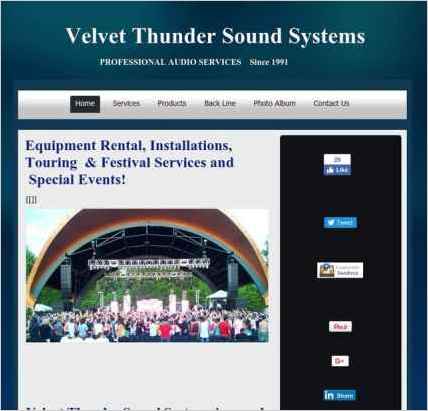 To build "Velvet Thunder Sound Systems," Steve Ehrlich chose Sandvox. He chose the "Aurora Palace Blue" design for the site.
Velvet Thunder Sound Systems
(Website is no longer listed here.)
Sandvox features used for this site:Photo Grid, Site Map, Contact Form
Visit Velvet Thunder Sound Systems »
---
Describe your website.
Complete production services available, stage, sound, lighting and backline rental.
Professional audio system rentals and sales, live sound services including on site recording. system design and installation. Audio engineering services and live sound classes.
Stage Systems, diverse, high quality stage lighting systems and more...
Who is the target audience for your website?
Touring musical acts, agents, promoters, producers and musicians, venues and festival groups.
Students looking for real world live sound instruction with hands on lab work at every class.
Federal, state, county, city, civic organizations, non profit organizations, corporations,small businesses, clubs, groups and individuals.
What is the advantage of your website over others?
Velvet Thunder Sound Systems has served its clients in the Pacific Northwest and Northern California for over 21 years!
Our well earned reputation for professionalism and quality assures you of value for your dollar, and proof of a vendor well chosen.
Tell us a story about this website.
Due to a long list of requests and the real life need for qualified, well trained individuals to work in the Live Sound industry, we have put together the classes everyone wants to take. Live Sound 101 starts you off with the basics in a 2 term course that gets you to prep, load, build and set-up a full sound system for a musical event featuring live music performance.
Audio engineering classes will be offered in the future as an advanced course or courses.
Recording classes are offered by so many other groups that we decided not offer recording classes, that would be redundant.
Why did you use this Sandvox design?
The design is clean, efficient and presents a clear and simple to use page with all the necessary information to determine our purpose, look at some of the things we do and the manufacturers we represent. These things will help the client evaluate our level of service capability and with our contact information they can easily contact us for immediate personal service!
What techniques did you use to build this website?
I know I am still learning this here and frankly I am not sure what a lot of these things do and those I do want to try, well I need more time to figure out how and what.
---
---
www.SandvoxSites.com/1959