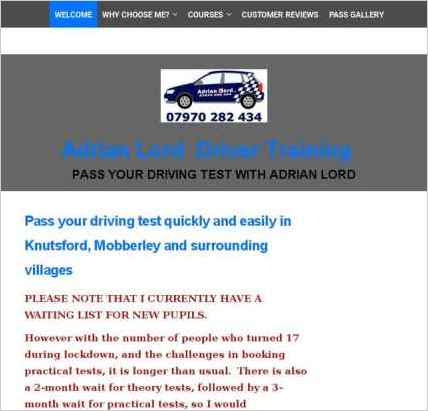 To build "Adrian Lord Driving Tuition," Adrian Lord chose Sandvox. He chose the "Blueball Reactive Blue" design for the site. People may want to visit the site if they are looking for Driving lessons in Stockport and High Peak.
Sandvox features used for this site:External Page, Contact Form
Visit Adrian Lord Driving Tuition »
---
Describe your website.
I am an experienced and qualified driving instructor. www.adrianlord.com tells prospective pupils and their parents information about my services, guarantees, and special offers.
Who is the target audience for your website?
My website is targeting young people aged 17 years and over, and adults looking for quality driving tuition in Stockport and High Peak.
What is the advantage of your website over others?
The website is updated frequently, so the information is always accurate. I notice that many competitor websites have not altered in their content over several years. My website gives pupils access to practice for their Theory Test free of charge. My pupils have found this very useful.
Why did you use this Sandvox design?
The present design of my website is clear and easy to read. It uses the colours blue, black and white, which are same as the graphics on my car.
---
---
www.SandvoxSites.com/1821