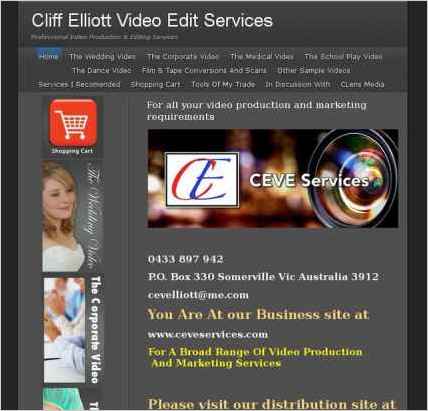 Sandvox was the choice for Clifford Elliott to build his website. He chose the "Smooth Dark" design for the site. People may want to visit the site if they are looking for Video Services.
Sandvox features used for this site:Contact Form, QuickTime Audio/Video
Visit Cliff Elliott Video Edit Services »
---
Describe your website.
My web site is designed to comunicate my business services such as Wedding Video, Corporate Video,
Training Video, Medical Video, School Play Video, Sports Video, Rowing Video, 21st Birthday Video,
Dance Video, Webb Video,
Film & Tape Conversions To Video.
Who is the target audience for your website?
People getting married, corporate marketing people,
School teachers and parents, sports people, research organisations, dance organisations.
What is the advantage of your website over others?
I offer a proffessional and unique mix of video production services at affordable rates.
Tell us a story about this website.
My existing web site built by using a competitor of Sandvox was getting out of hand and looking very amateurish. As some of my school customers were finding it hard to locate DVD products from years gone past. As soon as I had the new Sandvox site up I had new orders coming in within days.
Why did you use this Sandvox design?
I wanted a very professional looking but clean and tidy site that would communicate my services clearly.
The Sandvox design I used meets all listed requirments.
What techniques did you use to build this website?
I used tiled pictures down the left hand side of every page to enable visitors a quick and easy way to navigate to the relevant areas of the web site.
---
---
www.SandvoxSites.com/1819