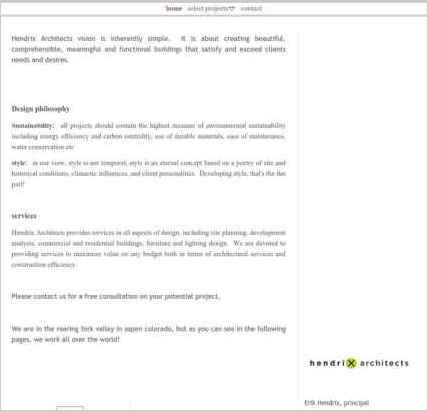 To build "Hendrix Architects," Erik Hendrix chose Sandvox. He chose the "Clean Sheets" design for the site.
Hendrix Architects
(Website is no longer listed here.)
Sandvox features used for this site:Photo Grid, Google Integration
---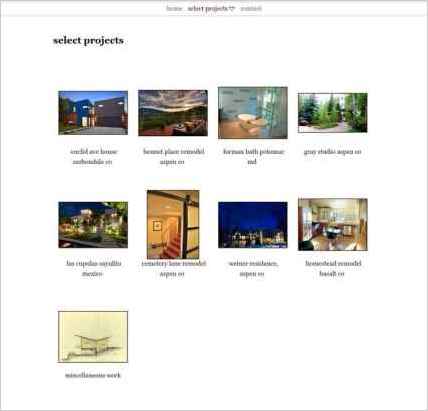 Describe your website.
The goal of my website is to introduce people to my architecture practice and provide potential clients my contact information. It strives to provide people with ideas about my architectural philosophy and show beautiful images of my work.
Who is the target audience for your website?
The target audience for my website are developers and private individuals in the Aspen area who are looking for an architect to hire for residential or commercial buildings. Ideally, these clients would be interested in excellent modern design and environmental sustainability.
What is the advantage of your website over others?
We offer a full range of design services at very competitive rates, including a free initial design consultation. Included in our services is always careful attention to detail and environmental sustainability.
Tell us a story about this website.
When I first published my new website, I received many compliments from visitors and created a nice buzz about it. Within a couple of days I already had 21 'likes' on Facebook, which was nice.
Why did you use this Sandvox design?
I chose the very basic white design as I wanted a simple backdrop for my site. I wanted the attention to go to the text and images, rather than have any distractions that were not germane to the content of my website.
---
---
www.SandvoxSites.com/2034