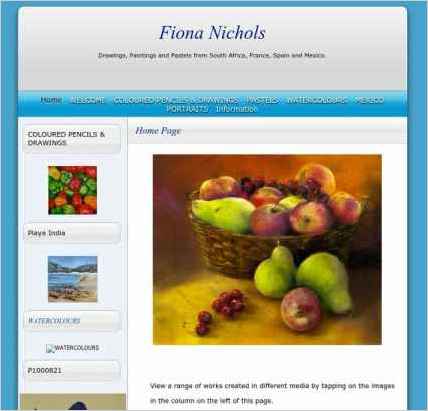 To build "Images by Fiona Nichols," Fiona Nichols chose Sandvox. She chose the "Aqua" design for the site. People may want to visit the site if they are looking for original pastels and watercolours, commissioned portraits.
Visit Images by Fiona Nichols »
---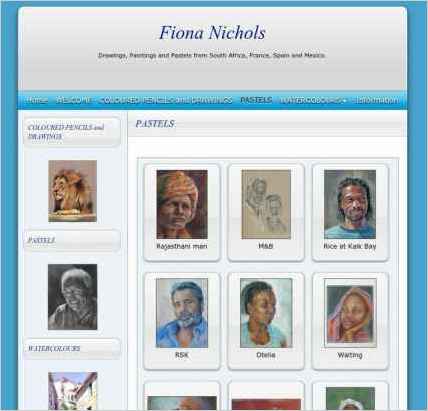 Describe your website.
After a career in travel journalism and publicity, I have decided to endeavour to become a saleable artist. Thus the website is a catalogue of contemporary drawings, watercolours, pastels and crayon images - many of which are portraits, both informal and commissioned.
I work informally with African people in South Africa, do portraits for friends and clients from photos and would now like to sell more of my work done in Mexico, Morocco, Spain, France or South Africa. In Mexico I meet many cruise passengers who show interest in the work but don't have the cash or space on them when we meet.
Using a website to show people what I do, means I can work on commissions after meeting new clients and then mail them the work at a later date.
Who is the target audience for your website?
The people most interested in seeing or buying works from me are probably those whom I met briefly, where there was not time to discuss work or commissions. People who disembarked from the cruise ships in Huatulco, Mexico and wandered over to where I was drawing, or tourists who peer over my shoulder when I am painting in South Africa, or Morocco. An artist always generates a lot of interest in the spot but I want to make that interest last - and to make it specific to me and what Ido. With a website and being in constant email contact, this becomes as easy as sitting down in a café and chatting for an hour with a client.
Tell us a story about this website.
Not yet concluded any sales, but I have great hopes. The few people who have looked at the website are very impressed by it. That is due as much to the Karelia team as to my own works.
Why did you use this Sandvox design?
I wanted something fairly ordinary as the star of the website has to be my work. So a complex background would not be appropriate in this instance. I work on a laptop, also, and so the screen is not huge: I found this layout to be simple and clear. However, since I enjoy design and colour, it may not stay the same for long! I shall probably try something else out in due course.
What techniques did you use to build this website?
Sorry. I was in a hurry to upload something about me so chose a very simple option. But, as mentioned above, I shall delve further into the variations available and probably try out some stuff later in the year.
---
---
www.SandvoxSites.com/2019