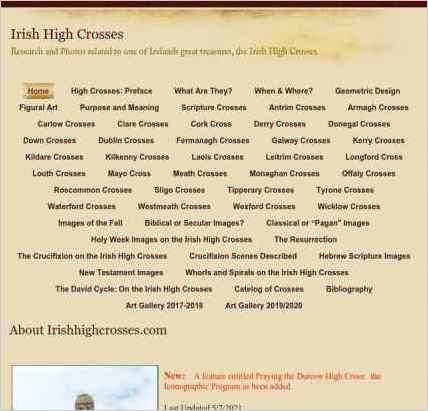 Barney McLaughlin used Sandvox to build this website. He chose the "Telegraph Office Cedar" design for the site. People may want to visit the site if they are looking for Irish High Crosses, Early Irish Art, Irish Christian Art.
---
Describe your website.
The goal of my Irish High Crosses website is to share photos and information concerning the High Crosses of Ireland. "High Crosses: An Introduction" explains what Irish High Crosses are and the varieties of art to be found on them. Specific crosses are introduced including: "Ahenny, North Cross" and "Clonmacnois Scripture Cross." Subject matter of cross art is addressed, such as: "Images of the Fall", "Biblical or Secular?", and Classical or 'Pagan'." Other pages address topics such as: "Twelfth Century Crosses", "Undecorated Crosses", and "Dating the Crosses." New features are added at least monthly.
Who is the target audience for your website?
My Irish High Crosses website targets those interested in Irish history, religion and art. The early Christian period of Irish History is the focus. The art of this period is reflected on the crosses.
What is the advantage of your website over others?
Irish High Crosses provides more closely focused and detailed information about Irish High Crosses than any other site I am aware of. This is especially true of the High Crosses: An Introduction article on the site. The specific crosses or subjects addressed offer more detail than other sites.
Why did you use this Sandvox design?
I am using the "Something Borrowed" design. I like the parchment look to the pages that reflects the fact that my subject is a very old one, historically.
What techniques did you use to build this website?
At this point in time I have kept my website design very basic. Photos and text have allowed me to share my study of Irish High Crosses without knowing much about website design or computer programing in general.
---
---
www.SandvoxSites.com/2027