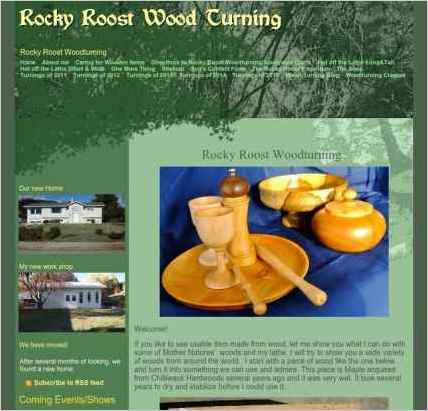 Syd Sellers used Sandvox to build this website. He chose the "Urban Forest" design for the site. People may want to visit the site if they are looking for Wood turning in Rocky Mountain House Alberta.
Sandvox features used for this site:Blog, Site Map, Contact Form, Raw HTML Object, Code Injection
Visit Rocky Roost Wood Turning »
---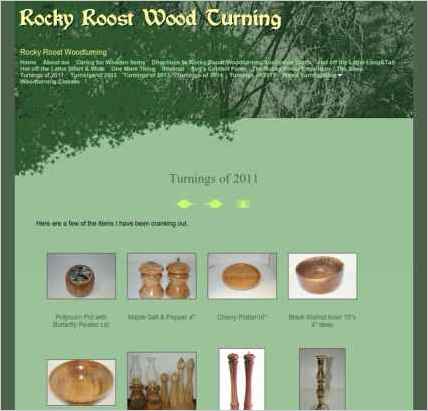 Describe your website.
I am a retired fellow that has a hobby of wood turning. I want to show others what I do and promote the hobby of wood turning. I turn a wide variety of items from woods from all around the globe. I make all sizes of salt & pepper grinders, coffee mills, egg cups, potpourri pots, bowls of a variety of sizes, candle stick holders and goblets both laminated and solid. I also teach wood turning classes.
Who is the target audience for your website?
I would like to be able to show those people that are looking for that very special gift for a loved one a very unique gift that you just can't pick up in any department store.
What is the advantage of your website over others?
Only my website will offer my creations; no one can copy my items. They are a "one of a kind" item not to be duplicated by me or anyone else. I am doing my best to uncover Mother Nature's secrets buried in woods.
Tell us a story about this website.
My Sandvox site is so new, it hasn't had time to create a story yet. As time passes, maybe it will generate something worth telling others.
Why did you use this Sandvox design?
The design I choose was the forest, home of all the different woods I use.
What techniques did you use to build this website?
I'm so new to Sandvox, I can't share anything, I just do it.
---
---
www.SandvoxSites.com/1856