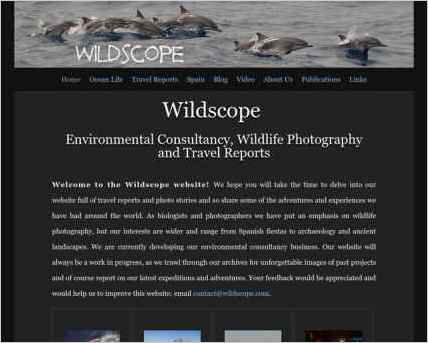 To build "Wildscope," Mick Baines & Maren Reichelt chose Sandvox. They chose the "Grafite" design for the site. People may want to visit the site if they are looking for Travel reports and wildlife photography.
Sandvox features used for this site:Blog, External Page, Photo Grid, YouTube, Editing HTML of text, Code Injection, Google Integration
---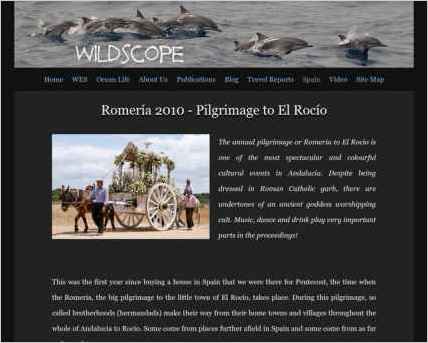 Describe your website.
The Wildscope website has travel reports of trips to Kenya, Gabon, Senegal and the Gambia, Spain and the Azores. Our pages are illustrated by hundreds of photos, especially of African wildlife and ocean life. We have links to our publications, an about us section and a blog, where people can follow what we are up to at the moment.
Who is the target audience for your website?
Our target audience inlcudes people with a general interest in wildlife as well as specialists in marine mammals. Our travel reports are aimed at others who have in the past or wish in the future to visit some of our favourite haunts, especially in Africa. We hope our website will be of use to those planning to travel to the areas we cover.
What is the advantage of your website over others?
This website is not meant to be competitive, we just want to share our experiences and hope that they will be of benefit to others.
Why did you use this Sandvox design?
We are using "Behind the Rabbit Grafite", which we think is a classy looking design and it's dark background is great for showing our pictures off to best effect.
What techniques did you use to build this website?
We used site injections to change the default fonts, header sizes and the size of the photo grid.
---
---
www.SandvoxSites.com/1857