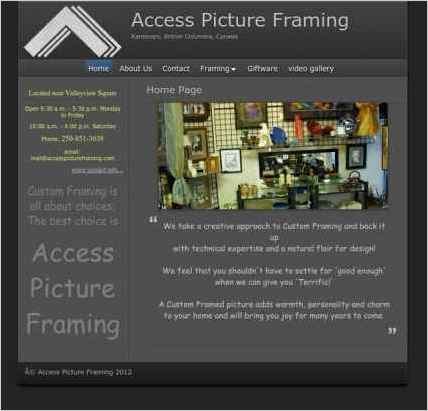 Sandvox was the choice for Jonathan Pallett to build his website. He chose the "Smooth Dark" design for the site. People may want to visit the site if they are looking for custom picture framing in Kamloops.
Sandvox features used for this site:External Page, Photo Grid, Custom Collection Index
Visit Access Picture Framing »
---
Describe your website.
I use this site to promote my business within the local area. My home page offers an introduction to my store using pictures and text, I make it easy for people to contact us by offering a page with phone number and email address. This page also details our business hours and a map showing our location. My framing page acts as a menu driven portal to other pages which explain various picture framing products and services which I offer. I also have several gallery pages with photos of completed framing jobs focusing on the different areas of our framing specialties such as needlework mounting and framing, shadowbox framing for objects such as collectibles, military medals, and sports memorabilia. I also show examples of mat decoration using special cuts, painted panels and ruled ink lines. I intend to add videos in the future to show how techniques of conservation and preservation framing are used, and to highlight our photographic retouch services.
Who is the target audience for your website?
My target audience is people from within my geographic area who are looking for creative and high quality custom framing services. Due to the use of internet advertising, email and our digital frame design capabilities, we find that we are also able to serve the needs of people outside our immediate area and have completed and shipped frames to customers all over the province of BC.
What is the advantage of your website over others?
I am hoping that my website can show visitors that I have a commitment to creativity, high quality and an attention to detail that is so important in creating a custom product.
Why did you use this Sandvox design?
I chose the Serengeti Smooth Dark design for several reasons. I felt that the dark background shows off photographs of my work in a dramatic fashion and gives a higher end and elegant feel to the whole site. because of the columnar layout, it is also easy to navigate and read using a mobile device.
What techniques did you use to build this website?
I used blank text boxes with rows of spaces in the sidebar to allow vertical positioning of other elements within the sidebar to line up with elements in the main part of the page. By adding or removing carriage returns, or selecting a blank line and changing font size a fair degree of accuracy can be achieved
---
---
www.SandvoxSites.com/1867