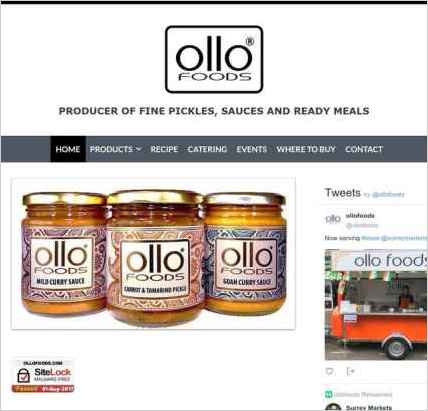 Sandvox was the choice for Dileep Sharma to build his website. He chose the "Blueball Simplex Black" design for the site. People may want to visit the site if they are looking for flavourful food, pickles, sauces, BBQ, ready meals, cooking.
Sandvox features used for this site:Blog, Contact Form, Raw HTML Object
---
Describe your website.
The website is our tool to extend the awareness of our products. We are a relatively young company and needed to be 'out there' promoting the company by building the brand image as 'ollo foods' and the home of passionate & excitingly good food! We are artisan producers, so everything we produce is hand made.
Who is the target audience for your website?
As we are a food producer, we would be attracting people across a large demographic who would like to try something different. Our target market is based in the British Isles and aimed at the 'Foodie' community.
Why did you use this Sandvox design?
The design I chose exemplified the ethos of the company which was simple, efficient and cool.
---
---
www.SandvoxSites.com/1984