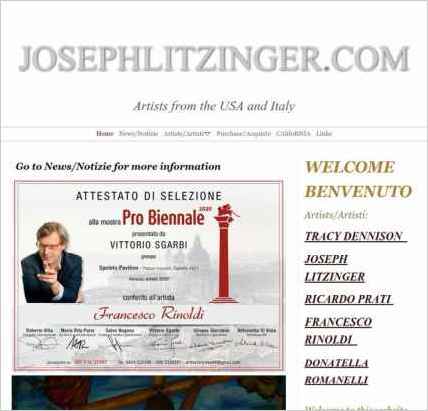 To build "JosephLitzinger.com," Joseph Litzinger chose Sandvox. He chose the "Clean Sheets" design for the site. People may want to visit the site if they are looking for Art, Artists.
Sandvox features used for this site:External Page, Photo Grid, Custom Collection Index, Contact Form, Other Objects
---
Describe your website.
My website is designed to feature a group of fine artists from the USA and Northern Italy, promoting their work and any news about the artists and current shows. The site text is in English and Italian.
Who is the target audience for your website?
Anyone who appreciates fine art from around the world.
Tell us a story about this website.
So far rave reviews from friends and the artists on the site seem very happy with the presentation.
Why did you use this Sandvox design?
I wanted as blank a canvas as I could use with Sandvox (the artist in me) to make this site look very pleasing to the eye, simple and easy to view and navigate. It was important to me that the art work and artist was the main focus on each page.
What techniques did you use to build this website?
I used primarily the photo album pages and in some cases just the photo/video page to insert media and text.
(I think that's what you mean?) I don't know HTML
---
---
www.SandvoxSites.com/1920