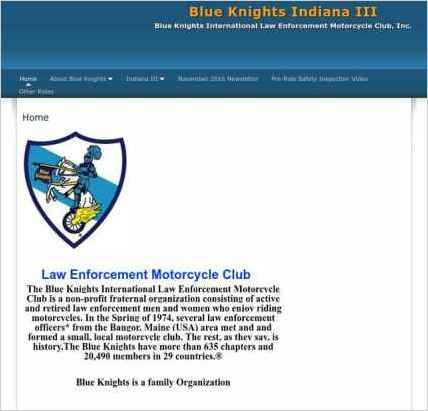 Michael Hornbrook used Sandvox to build this website for Blue Knights International Motorcycle Club, Localized Chapter. He chose the "Mezzanotte" design for the site. People may want to visit the site if they are looking for Active and retired Police Officers who enjoy motorcycles, travel.
Sandvox features used for this site:External Page, QuickTime Audio/Video
Visit Blue Knights Indiana III »
---
Describe your website.
Information about the Blue Knights and history of Blue Knights Indiana III. Pictures of some rides, slide shows of some events, and recruiting video.
Who is the target audience for your website?
Law Enforcement Officers retired or active.
Tell us a story about this website.
There are no strangers in the Blue Knights, "just friends you haven't met yet."
Why did you use this Sandvox design?
Simplicity with a lot of areas to view
---
---
www.SandvoxSites.com/1901