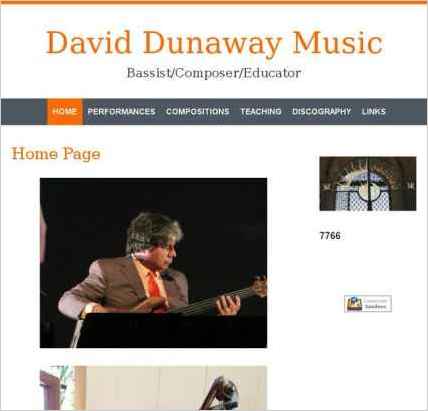 David Dunaway used Sandvox to build this website. He chose the "Blueball Simplex Orange" design for the site. People may want to visit the site if they are looking for Bass, bass player, bass teacher, composer, musician, musicians f.
Sandvox features used for this site:Blog, YouTube, Google Integration
---
Describe your website.
I want to have a place where people can go to get an idea of all the different aspects of music I am involved in. It is educational in the sense that people in general don't know about the wide range of services musicians, such as myself, can offer. I perform, tour, record, as a bassist. I teach bass privately. I compose both electronic and acoustic music for ambient sound, recordings and movie soundtracks. And, I can put together ensembles for functions, parties, etc.
Who is the target audience for your website?
Parents who are looking for a bass teacher for their children in Westchester County, New York. Event planners looking for musician coordination for their events. Artists looking for a bassist. Film makers looking for background music for their films. Concert producers looking at my band for performance dates.
What is the advantage of your website over others?
Music is totally subjective, but I hope that people will like the music they hear and the videos they see enough to want to hire my services.
Tell us a story about this website.
It's still early, but I did tell one contact. She works at the Metropolitan Museum of Art in NYC. [She thought] my new site was "terrific" and that she loved hearing examples of my originals and reading about my upcoming tour of Africa.
Why did you use this Sandvox design?
I liked the simplicity of it. The clean lines and the colors - the black and the orange. It goes well with, I think, the emphasis on the sonic aspect of what I offer which, I think, is my strong point.
---
---
www.SandvoxSites.com/1829