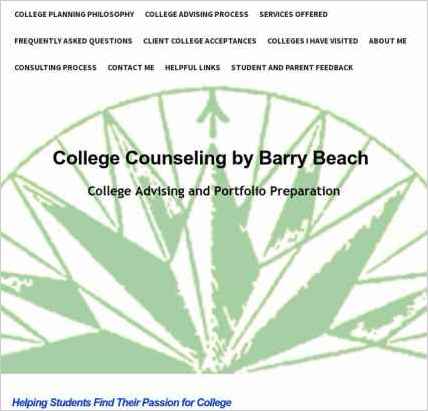 Sandvox was the choice for Barry Beach to build his website. He chose the "Blueball Flexor Gray" design for the site. People may want to visit the site if they are looking for College Counseling and Advising Services.
Sandvox features used for this site:External Page, Site Map, Code Injection
Visit College Counseling by Barry Beach »
---
Describe your website.
Who is the target audience for your website?
My target audience is parents of students in high school, particularly parents of artists as counseling visual artists toward college is one of my specialties.
What is the advantage of your website over others?
From reviewing several websites of other college counselors, I find my site includes substantially more information about me, my college counseling and college admissions experience, why people decide to use independent college counselors and links to other college sites including financial aid.
Tell us a story about this website.
I have increased client inquiries from my region, especially people who had not previously heard about me or my services. The new site was much more cost effective than monthly advertising costs.
What techniques did you use to build this website?
I was able to figure out how to incorporate my logo and play with the color and width of it across the page. Definitely added a customized look.
---
---
www.SandvoxSites.com/1828