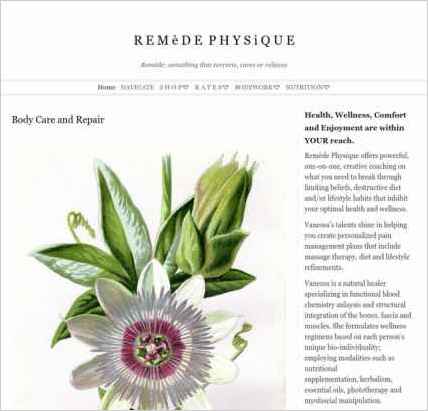 Sandvox was the choice for Vanessa Hendley to build her website for Remède Physique. She chose the "Hydrogen" design for the site. People may want to visit the site if they are looking for Nutritional Therapy, Massage Therapy.
meditation yoga massage therapy structural integration infrared therapy essential oil lymphedema hypnossage lipedema alternative medicine nutritional therapy nutritional supplement
Sandvox features used for this site:Blog, External Page, Contact Form, Other Objects, Raw HTML Object
---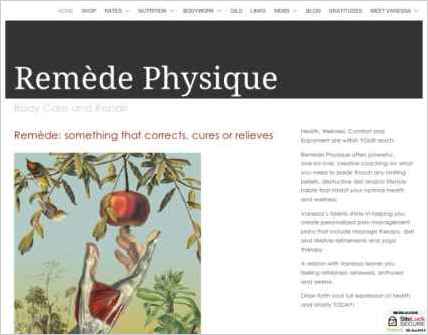 Describe your website.
My website focuses on the basic information anyone would want to know about my business ... from different therapies and rates, to more detailed information about supplements and re-educating themselves about health care ... I also have a link to my online store, a blog, and a place where folks can share their gratitudes and experiences.
Who is the target audience for your website?
I built this website for my clients, and anyone who is interested in improving their health and well being. Since opening my business in 2003, Remède Physique has grown to serve an international clientele ranging from pediatrics to geriatrics. Most of the people who find me are pretty much at their wits end, and have tried many different avenues of healing that haven't worked. My approach is holistic and highly individualized, so with a little care and attention from both myself and the client, we are able to find solutions.
What is the advantage of your website over others?
I think that people who are proactive, and interested in being a major force in their own healing, really get a sense of what they can achieve after visiting my website ... especially the Gratitudes Page, where other clients have shared their success stories.
Tell us a story about this website.
Here is a little note I just received a few minutes ago about my latest blog post: "Wow - talk about the Law of Attraction. As I was writing and weeping to you just now, you were posting this fantastic blog on panic...it's not all in your head. Thanks!"
Why did you use this Sandvox design?
I love how clean and crisp the Hydrogen template is. I have A LOT of content that needs to be organized ... and the site just keeps growing ... this template makes it easy to organize the information and give structure to the wild variety of content in this ever expanding site.
---
---
www.SandvoxSites.com/3094