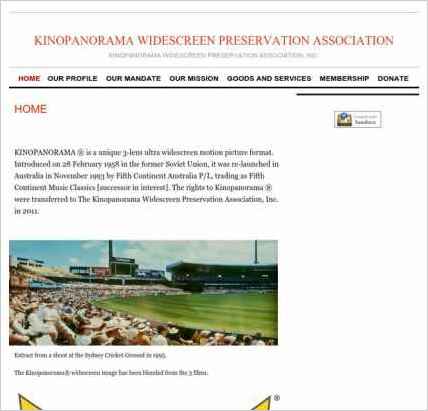 Mr. John Lasher used Sandvox to build this website. He chose the "Distinction Red" design for the site. People may want to visit the site if they are looking for Motion picture film formats, film preservation.
Sandvox features used for this site:Photo Grid, Other Objects
Visit Kinopanorama Widescreen Preservation Association »
---
Describe your website.
The website outlines the goals and features of the not-for-profit association, including information about the Kinopanorama format from a historical standpoint.
Who is the target audience for your website?
We are interested in targeting motion picture historians, preservationists, and those who are particularly interested in widescreen and wide gauge motion picture formats developed in the 1950s.
What is the advantage of your website over others?
The Association owns the sole operating Kinopanorama camera and ancillary equipment, which have been restored and upgraded to contemporary standards. There are no competitors in this regard.
Why did you use this Sandvox design?
Because it is simple and elegant.
---
---
www.SandvoxSites.com/3320