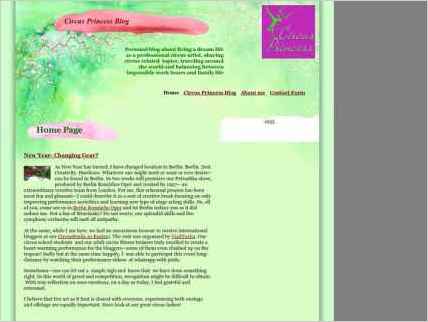 To build "Circus Princess Blog" for ArtTeatro, Tuuli Pauliina Rasanen chose Sandvox. She chose the "Branching Out" design for the site. People may want to visit the site if they are looking for personal blog by Pauliina Rasanen.
Sandvox features used for this site:Blog, Photo Grid, Contact Form, YouTube, Other Objects
---
Describe your website.
I write a personal blog about living a dream life as a circus performer, but I also include philosophical thougths and reflect deeper into our culture and history.
Who is the target audience for your website?
Producers, directors, artists, female, male, culture, and festival organizers
What is the advantage of your website over others?
I am the only blogging female circus artist on this planet!
Why did you use this Sandvox design?
---
---
www.SandvoxSites.com/3306