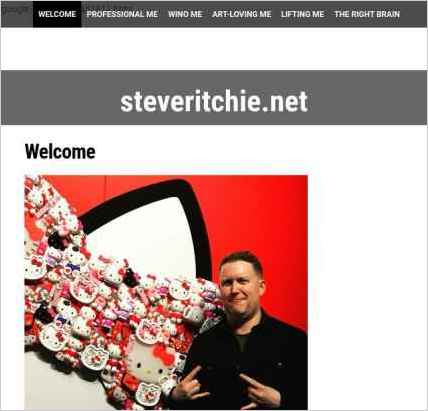 Sandvox was the choice for Steven D. Ritchie to build his website. He chose the "Blueball Apex Black" design for the site.
Steve Ritchie
(Website is no longer listed here.)
Sandvox features used for this site:Blog, External Page, Photo Grid, Site Map, Contact Form, QuickTime Audio/Video, Editing HTML of text, Raw HTML Object, Google Integration
This website is hosted by Sandvox Hosting.



---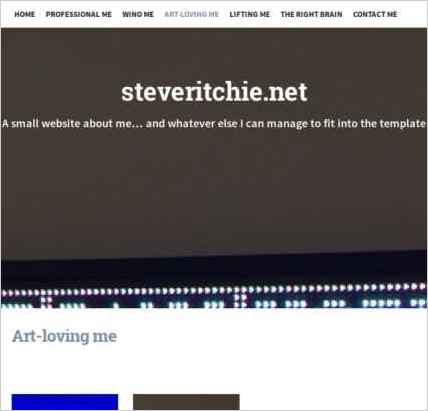 Describe your website.
My website contains my professional background and resume, which I am posting to expose myself to as many professional opportunities as possible in information services, online media, strategy, and sales and marketing. It also captures my personal interests, including indie rock, modern art, and weightlifting.
Who is the target audience for your website?
My target audiences are professional contacts with whom I could have engaging conversations about business and career opportunities, and art and music lovers who enjoy sharing unusual and less-easily-found creative work.
Tell us a story about this website.
My site is new, but I have found that with every prospective career opportunity, a potential employer checks my site. If I want to be seen as savvy about online marketing, information strategy, and web -based subscription businesses, I had better have a site that passes muster!
Why did you use this Sandvox design?
Two words: responsive design. I wanted a site that works on all devices, not just a PC/Mac. In addition, I liked the clean, modern lines, and the lack of excessive ornamentation. Now, if I could only reduce the size of the banner, I'd be ecstatic!
What techniques did you use to build this website?
Follow Sandvox's advice. I used the welcome emails to learn about Google integration, site tools, and ways to make my site stand out. Also, I am a big believer in trial and error -- you will make mistakes, but editing them and cleaning them up is easy. Don't be afraid, and have fun playing around with your site.
---
---
www.SandvoxSites.com/3298