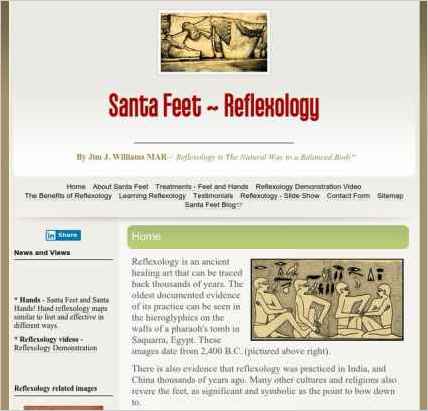 To build "Santa Feet Reflexology," Jim J. Williams chose Sandvox. He chose the "Brown and Green" design for the site. People may want to visit the site if they are looking for Learning reflexology, Reflexology certification program,.
Sandvox features used for this site:Blog, Site Map, Contact Form, QuickTime Audio/Video, Raw HTML Object
Visit Santa Feet Reflexology »
---
Describe your website.
What is on my website is information relating to the origins, practice, and benefits of reflexology as an alternative, complementary health therapy. In addition, there is information relating to the 150 – hour reflexology certification program I have developed, and teach here in Santa Fe, New Mexico. There are articles posted on my blog, and links to videos of hand and foot reflexology.
Who is the target audience for your website?
The target audience for my website is anyone interested in finding out about reflexology, or wanting to study reflexology in Santa Fe, N.M.
Tell us a story about this website.
Many visitors to my website have commented on how attractive and effective my website is. One of those visitors happens to own a reputable website design company, which made be feel even more confident of the quality of my website and Sandvox.
Why did you use this Sandvox design?
I played around with a lot of different designs for my website, but chose the Brown and Green design because of the "earthy" colors used - for me they best represent the healing aspects of this non-invasive therapy. In addition, I chose this design because it complemented my logo and business cards so well. The colors generally used for the background and page titles are gentle to the eye, while the website's main title is eye catching in red.
What techniques did you use to build this website?
Some techniques I used were changing the font color and size so easily. I have recently created links to the professional association of which I am a member, and have utilized RAW HTML objects that they offer to full members of the Association of Reflexologists. I utilized the slide show page to show photos connected to reflexology, and incorporated a short video extract of my own.
---
---
www.SandvoxSites.com/3159