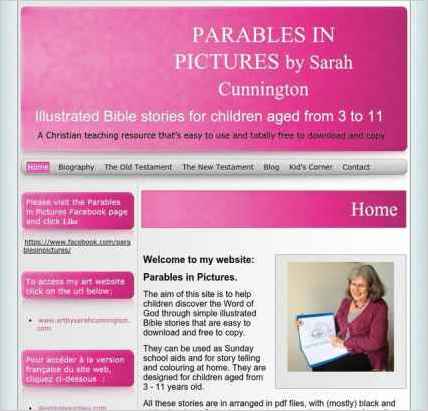 Sandvox was the choice for Sarah and Martyn Cunnington to build their website. They chose the "This Modern Life Pink" design for the site. People may want to visit the site if they are looking for Free illustrated children's Bible stories.
Sandvox features used for this site:Photo Grid, Contact Form, Other Objects
---
Describe your website.
[The website offers] illustrated Bible stories for children and easy to download PDF brochures in English and French. Also, Children's Corner with photos sent in by kids with their coloring. These stories have been produced over a period of several years for local churches, and I would like to see them more widely disseminated. My commitment is to making them available free of charge.
Who is the target audience for your website?
Churches and Sunday Schools in French and English speaking countries around the world, and Christian families
What is the advantage of your website over others?
It is easy to use, not too wordy, and provides totally free downloads of illustrated Bible stories for children.
Tell us a story about this website.
Too soon to say, as it's only been published for 2 weeks.
Why did you use this Sandvox design?
I liked it's discrete colours, clean lines and overall simplicity. The illustrations that make up each story can be seen at a glance and the format frames them neatly.
What techniques did you use to build this website?
Links to my main art website: artbysarahcunnington.com
The PDF brochures make for easy downloading of the free material
Alternating English and French text
---
---
www.SandvoxSites.com/3160