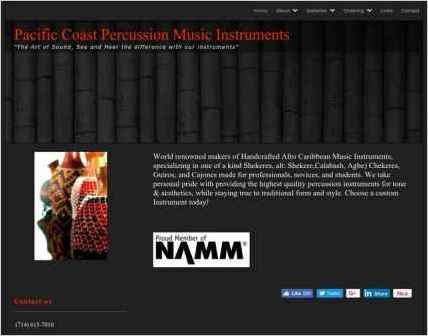 Sandvox was the choice for Stanley P. Corpus to build his website. He chose the "Kryptonite Left Sidebar" design for the site. People may want to visit the site if they are looking for Hand crafted Musical Percussion Instruments.
Sandvox features used for this site:Photo Grid, Site Map, Contact Form, Raw HTML Object
Visit Pacific Coast Percussion Music Instruments »
---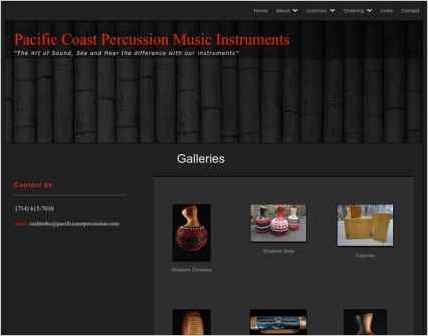 Describe your website.
My website is designed to inform people of hand crafted musical percussion instruments that professionals, novices, and students of percussion can use. Making instruments is my passion and being able to showcase my work to a larger audience (Internet) can educate people to this type of work.
Who is the target audience for your website?
The target audience for my website is people who enjoy music and art: professional, novice and student musicians. And folks who like hand made art!
What is the advantage of your website over others?
Known for high quality music Instruments, used by professional musicians around the world.
Tell us a story about this website.
I've been getting some great feedback from family and friends in regards to the new website. But a customer called me and said "Stan, I love your new website! How much did it cost you?" I mentioned to him I did it all myself with a program called "Sandvox" for Mac. He said, "Great then next time make the fonts bigger!"
Why did you use this Sandvox design?
This design really showcased the very simple use of three colors throughout the website. I felt the style would give me a professional looking environment that would create contrast to my instruments.
What techniques did you use to build this website?
I had a problem with a main photo not showing up in the main gallery. I could not figure it out, but "Heather" from tech support helped me out! She explained to me where I could select the toggle to enhance this feature. And this was answered in the fastest tech support response ever!
---
---
www.SandvoxSites.com/3148