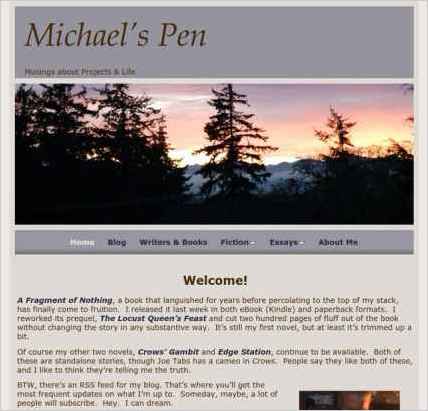 To build "Michael's Pen," Michael C. Glaviano chose Sandvox. He chose the "Cathedral" design for the site.
Michael's Pen
(Website is no longer listed here.)
Sandvox features used for this site:Blog, External Page, RSS Feed Object, Other Objects, Editing HTML of text, Raw HTML Object, Code Injection
---
Describe your website.
Who is the target audience for your website?
I hope to attract anyone who enjoys fantasy, magical realism, and science fiction to my site. In general, my books and site are meant for those over eighteen years of age. In addition to my readers, I hope that my friends, new and old, will visit my site often so they can keep up with my life and my projects.
Tell us a story about this website.
Since I switched to Sandvox, several visitors have commented that my site looks better than it ever has before.
What techniques did you use to build this website?
After I moved to Sandvox, I decided to completely rework my site. This involved a lot of cut-and-paste from old pages. I also reproduced the dates on my original blog posts via the inspector. I used HTML code injection to incorporate features from Goodreads.com -- a subsidiary of Amazon.
---
---
www.SandvoxSites.com/3144