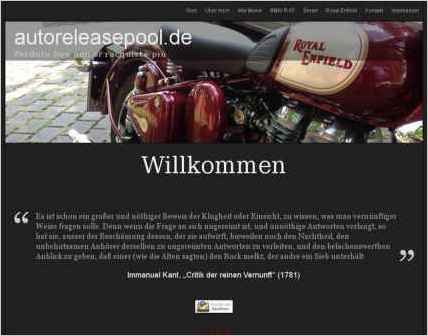 To build "autoreleasepool.de," Michael Grom chose Sandvox. He chose the "Krypton Pro Left Sidebar" design for the site. People may want to visit the site if they are looking for old music, vintage motor bikes.
Sandvox features used for this site:External Page, Photo Grid, Contact Form, YouTube, QuickTime Audio/Video, Other Objects, Code Injection
---
Describe your website.
It's neither about business nor about an organization, it's only about me. To whom it may concern... Tell people a tiny little bit about me (Über mich). Vanity? Sure!. People will learn a lot about my likes (Royal Enfield, alte Musik - old Music), the wonderful, peaceful and sometimes misunderstood crayfish of Cherax peknyi, my fondness of French cars like the 308cc by Peugeot, and finally my fondness of Immanuel Kant (philosopher) and Georg Friedrich Händel (composer).
Who is the target audience for your website?
If I ever apply for another job, HR managers will dive into Google and the social networks and gather as much info as possible about me. If I ever start blogging, it will be more related to my job work, but I'm afraid my jobs do not leave enough spare time to start a blog, even in Sandvox.
Why did you use this Sandvox design?
After browsing all available designs, the design chosen for my website reflects my personality and taste best. Clear sections of the page space, clear typeface, black background. A website design is like a business card's design or logo. After thorough exploration, choose it and stick with it. :-)
What techniques did you use to build this website?
Really nothing special beyond the chosen design and standard offering from Sandvox. The design can be influenced by code injection and I did not go beyond that. The result is - in comparison with the effort - more than impressive. If I ran a business, it would choose Sandvox to create the business web site.
---
---
www.SandvoxSites.com/3138