Jane A. Beal used Sandvox to build this website. She chose the "Urban Forest" design for the site. People may want to visit the site if they are looking for dog walking in Cambridge MA.
This website is hosted by Sandvox Hosting.



---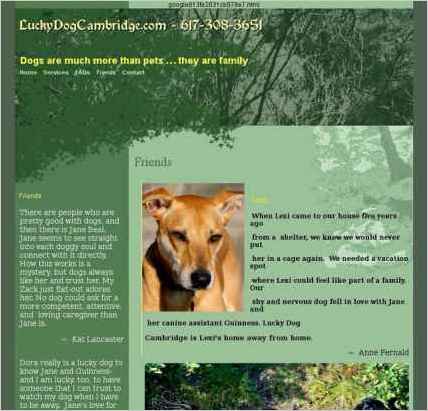 Describe your website.
Lucky Dog Cambridge provides reliable daily dog walks. Small groups of compatible dogs are given a stimulating outing in local parks. Lucky Dog also offers in-home boarding and vacation care for your pets. Elderly, infirmed or shy dogs are a specialty.
Who is the target audience for your website?
Lucky Dog Cambridge serves pet parents in the Greater Boston, MA area.
What is the advantage of your website over others?
Most independent dog walkers do not have a website. If you are searching for options, you are more likely to find companies with multiple employees. Lucky Dog Cambridge is small and personal, providing continuity and peace of mind. Lucky Dog is bonded an insured and a member of Pet Sitters International.
Tell us a story about this website.
When I started my business, I used Apple's iWeb. Since that application was defunct, I could no longer update the information. Sandvox offered a simple and elegant solution, making a new website very easy to create.
Why did you use this Sandvox design?
The Urban Forest design allowed me to instantly evoke the outdoors that reflects the service my business provides. Without saying a word, a peaceful and pastoral feel enveloped my content.
What techniques did you use to build this website?
Mine is a very simple website. The only "external" content is photos of my clients.
---
---
www.SandvoxSites.com/3293