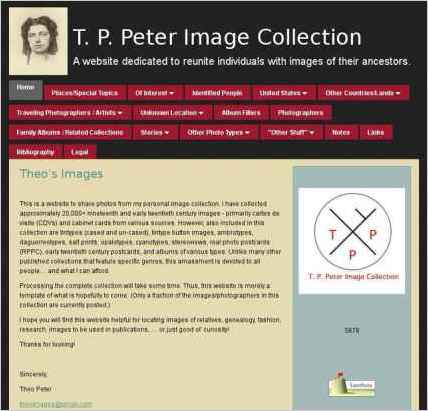 To build "T. P. Peter Image Collection," T. P. Peter chose Sandvox. He chose the "Appleseed Grey" design for the site. People may want to visit the site if they are looking for photographs of ancestors.
Visit T. P. Peter Image Collection »
---
Describe your website.
The T. P. Peter Image Collection website is dedicated to reuniting individuals with images of their ancestors. This website will eventually contain 20,000+ nineteenth and early twentieth century images - primarily cartes de visite (CDVs) and cabinet cards from various sources. However, also included in this collection are tintypes (cased and un-cased), tintype button images, ambrotypes, daguerreotypes, salt prints, opalotypes, cyanotypes, stereoviews, real photo postcards (RPPC), early twentieth century postcards, and albums of various types.
Who is the target audience for your website?
The T. P. Peter Image Collection website contains nineteenth-century and early twentieth-century images from many different countries. People looking for images of relatives, genealogical information, fashion styles, and images to be used in publications may find it beneficial to visit this website. However, this website may also be endeared by those just looking for good ol' curiosity!
What is the advantage of your website over others?
Unlike many other published image collections that feature specific genres, this amassment is devoted to all people… and what I can afford.
Tell us a story about this website.
Sandvox has allowed me to organize a relatively large number of images so that they can be accessed and researched in a multiple of different ways. Not only can one search for an image by location, the same image can be located by identity of the person (as available) as well as by subject matter (e.g. Hoop skirts, hair styles, masonic images, boots, hats, toys, facial hair, etc.).
Why did you use this Sandvox design?
The Sandvox design I selected, Appleseed Grey, allowed me to organize the images in a manner to allow for multiple points of access for individual images. This created a venue for the enhanced ability to locate desired images for research. Plus with the inherent tonal qualities of nineteenth-century and early twentieth-century photos, the Sandvox design chosen make the images... POP!!!
---
---
www.SandvoxSites.com/3291