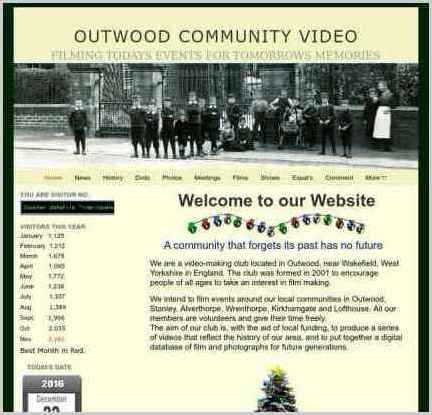 To build "Outwood Community Video," Outwood Community Video chose Sandvox. He chose the "Clockwork" design for the site. People may want to visit the site if they are looking for History, Nostalgia, Community Spirit, Heritage.
Sandvox features used for this site:Photo Grid, RSS Feed Object, Editing HTML of text, Raw HTML Object
Visit Outwood Community Video »
---
Describe your website.
We have 600 hours of film and 7000 old photographs of oul local community that we want to share with the world.
Who is the target audience for your website?
Mostly our local community, but lots of ex-pats as well.
What is the advantage of your website over others?
Why did you use this Sandvox design?
What techniques did you use to build this website?
just followed the excellent tutorial.
---
---
www.SandvoxSites.com/3288