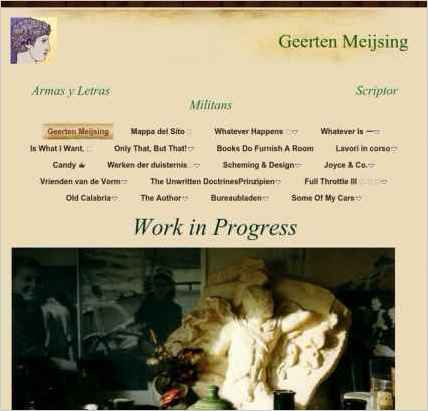 To build "Geerten Meijsing" for Joyce & Co., Geerten Jan Maria Meijsing chose Sandvox. He chose the "Telegraph Office" design for the site. People may want to visit the site if they are looking for Geerten Meijsing books Dutch literature.
Sandvox features used for this site:Blog, External Page, Photo Grid, Custom Collection Index, Site Map, Contact Form, Amazon.com, YouTube, QuickTime Audio/Video, Other Objects, Editing HTML of text, Raw HTML Object, Google Integration
---
Describe your website.
Geerten Meijsing's books about my writing documentation, my writing literature, [along with] decadent period German, French, Italian, and English writers and books.
Who is the target audience for your website?
General readers of good books and high literature
What is the advantage of your website over others?
People will prefer my books because they are much better. Also, my website is more lively than those of other writers, [with] more background information and much visual material that is attractive.
Why did you use this Sandvox design?
After sniffing around a bit among the possible variants, I finally found this one the best looking for my purpose and also the most adapted in its outlay.
---
---
www.SandvoxSites.com/3282