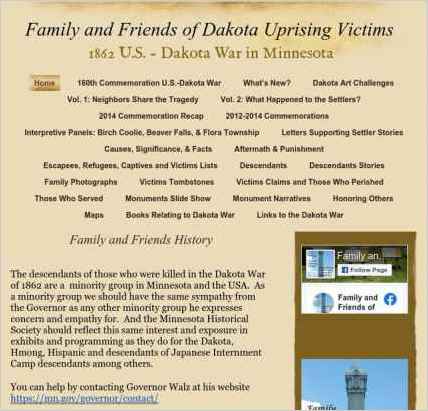 Sandvox was the choice for Joyce A. Kloncz to build her website. She chose the "Telegraph Office Fir" design for the site. People may want to visit the site if they are looking for US Dakota War 1862.
Sandvox features used for this site:External Page, Photo Grid, Site Map, Contact Form
Visit Family and Friends of Dakota Uprising Victims »
---
Describe your website.
This website was created for the descendants of those who were killed, injured, or captured by the Dakota Indians in 1872 in Renville County, Minnesota. This was the largest Indian war in US history. Seldom did we hear the settlers' side; most of the printed history is the Native American side.
Who is the target audience for your website?
We are a settler advocate group for our ancestors who settled not only in Renville County, but across the state of Minnesota. Our grass roots group now has nearly 150 descendants from across Minnesota and beyond, and our followers include not only descendants, but also historians and friends who have interest in the U.S.-Dakota War. Our volunteers provided research, funding, and outreach for the three interpretive panels that are now dedicated on the grounds of the Renville County Historical Society.
What is the advantage of your website over others?
Family and Friends of Dakota Uprising Victims tells a story about the settlers; we became involved with honoring our ancestors by first dedicating a memorial for the Birch Coulie victims at the Renville County Historical Society on August 18, 2012. In 2014, we erected two more memorial plaques honoring our ancestors.
Tell us a story about this website.
Our website has had 3071 hits, many of whom were looking for more historical information on the US - Dakota War of 1862. My sister and I formed the group after we found that our great-great grandfather, his son, his half-brother, wife, and 3 boys perished in the war. Our great-great grandmother and daughter were captured by the Dakota and later released.
Why did you use this Sandvox design?
It had an historical feel to the design, which fit our mission of sharing information about the war.
What techniques did you use to build this website?
We collect many stories from the descendants and put them as PDFs that viewers can read. We added many photographs of victims' families, tombstones, victims' claims, plus historical narratives on the causes of the war. The pages we chose allowed us to display this information.
---
---
www.SandvoxSites.com/3274