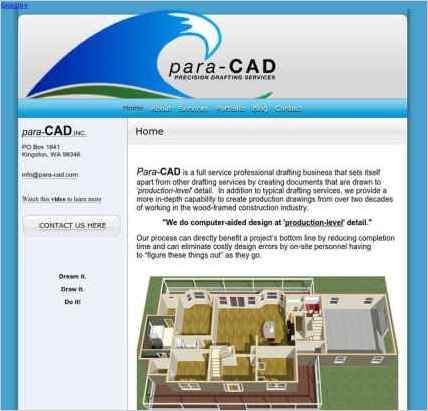 To build "para-CAD," Mike Morrison chose Sandvox. He chose the "Aqua" design for the site.
para-CAD
(Website is no longer listed here.)
Sandvox features used for this site:Blog, External Page, Photo Grid, Site Map, Contact Form, YouTube
---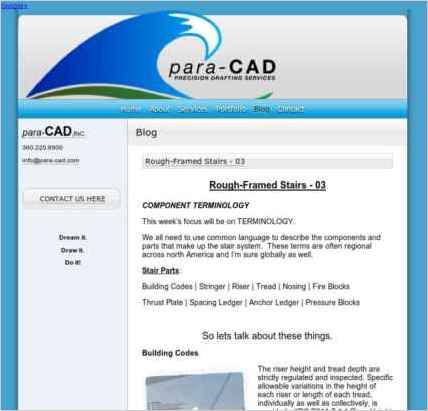 Describe your website.
Para-CAD is a full service professional drafting business that sets itself apart from other drafting services by creating documents that are drawn to 'production-level' detail.
In addition to typical drafting services, we provide a more in-depth capability to create production drawings from over two decades of working in the wood-framed construction industry.
We provide 'real-world' accuracy and production-level drafting solutions.
Architectural Drafting - production-level precision construction drawings
Off-site drafting solutions
Construction Drawings created for permit
3D modeling
As-builts - laser accurate to 1/16" over 150'
Complex roof geometry - drawn for production fabrication and assembly
Stair details - production cut sheets
Remodels and additions
Garage and carport conversions
Components - all fully dimensioned for fabrication straight from the drawing
Sections and details - drawn using actual material dimensions
Material Take Offs
On-site drafting solutions (typically local WA area only)
Contract CAD services (1099 or W-2)
Jobsite consulting (typically local WA area only; extended travel is negotiable)
Sketches converted into scaled CAD-drafted production drawings
"We do computer-aided design at 'production-level' detail."
Our process can directly benefit a project's bottom line by reducing completion time and can eliminate costly design errors by on-site personnel having to "figure these things out" as they go.

Some final words...
I'm a former framing contractor with over 20 years experience and I primarily used AutoCAD during that time to create precise production and shop drawings of all the complex items on my projects. This served me well, as my on-the-jobsite time 'figuring things out' was greatly reduced and any mistakes became an extremely rare event. I've recently decided to offer my level of exacting experience to builders, architects, engineers, and home owners with precision drafting services.
Today, I use a combination of 2D and 3D applications to create drawings with "real world" accuracy. This means that my drawings can help make your projects run more efficiently. In addition to providing the standard construction set of drawings for bid, I provide solutions to the complex details in wood-framed construction. I'm also an expert in hand-cut roof systems. Therefore, I can provide completely dimensioned roof cut-sheets, as part of your construction set, so that you can tackle more challenging projects with greater ease.
In summary, para-CAD provides documents that are drawn as they will be built. From new home builds, additions, and remodels, to anything requiring a technical set of drawings, I invite you to take a look around our website and see if para-CAD can be of service to you. I feel confident that our services will be a valuable asset to you and your upcoming projects.
Respectfully,
Mike
Who is the target audience for your website?
BUILDERS: Builders and framers can see bottomline benefits from using us to maximize their construction documents. We create 'build-able' documentation that will make you faster and reduce or eliminate flaws that typically go unnoticed until they manifest.
ARCHITECTS: We support architects and their firms by providing exceptional drafting services without the need to hire additional employees. We perform the precision drafting of your designs so you are freed up to focus more on your customers and upcoming projects.
ENGINEERS: Our service is also valuable for structural engineers, who can leave the drafting to us while they focus on the structural designs and complex calculations to ensure a safe and strong structural solution. You scribble a sketch and the text you need, we rapidly turn around a precision drawing for you.
HOME OWNERS: Para-CAD will meet with you at your location and help you capture your ideas and dreams on paper.
STUDENTS: Do you need help learning AutoCAD? We can help.
REALTORS: Looking to have laser-accurate as-builts created for those large commercial properties? Para-CAD can do that for you.
What is the advantage of your website over others?
I manage my website, so I am very responsive to anyone contacting me. I wear ALL of the hats. When a new client makes contact............they reach ME and no one else. There is no bureaucracy to fight through to get to someone important. If you contact para-CAD you reach the owner.
Tell us a story about this website.
I've actually had people ask me how much I paid to have my site built. I tell them...........get the Sandvox app and about 3 hours on a Saturday night.
People have commented that they like that my site [since it] isn't all crowded with pop up advertising, or a 'blast' of banner ads all over the place. My site is calm, informative, accurate, and simple.
Why did you use this Sandvox design?
I was looking for something calm and blue (we live a mile from the pacific ocean). I am not interested in a flashy, eye-bleeding color storm website to get attention. This template immediately was appealing to me.
What techniques did you use to build this website?
I'm not that skilled so I just used the template and made it look like I wanted.....then published it. By looking at the list in the previous question, I'm excited to look into podcasting and maybe some other features.
I would eventually like to do e-commerce (maybe square or something like that integrated), so people could pay with their credit/debit cards for work I do.
---
---
www.SandvoxSites.com/3279