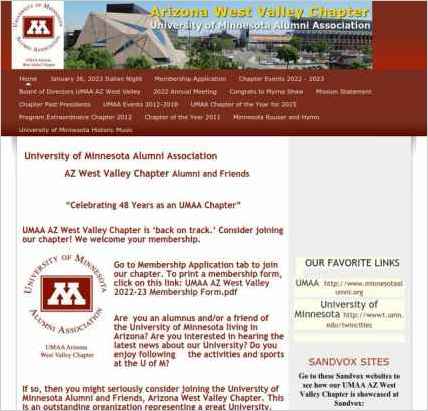 Joyce A. Kloncz used Sandvox to build this website for University of Minnesota Alumni Association. She chose the "Mezzanotte Red" design for the site. People may want to visit the site if they are looking for University of Minnesota alumni information.
Sandvox features used for this site:Photo Grid, Contact Form
Visit Arizona West Valley Chapter »
---
Describe your website.
This website is devoted to an alumni association chapter located in Arizona. We include information on current, future, and past events for our chapter.
Who is the target audience for your website?
We think University of Minnesota alums who live in Arizona will be attracted to our site. There are 6600 U of MN alums living in this state. We are trying to reach out to them via our website.
Tell us a story about this website.
We've had positive comments from our members and from potential members about the website.
Why did you use this Sandvox design?
I looked for color to go with the maroon and gold colors of the University of Minnesota. There were several other designs that would work as well.
What techniques did you use to build this website?
I gleaned information from our brochures, bylaws, mission statement, and previous events to focus on.
---
---
www.SandvoxSites.com/3272