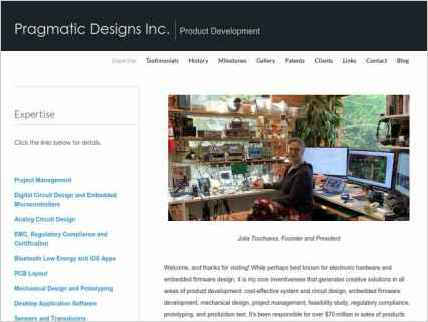 Julia Truchsess used Sandvox to build this website. She chose the "Lithium Classic" design for the site. People may want to visit the site if they are looking for Electronic Product Development.
Sandvox features used for this site:Photo Grid, Site Map, Google Integration
Visit Pragmatic Designs Inc. »
---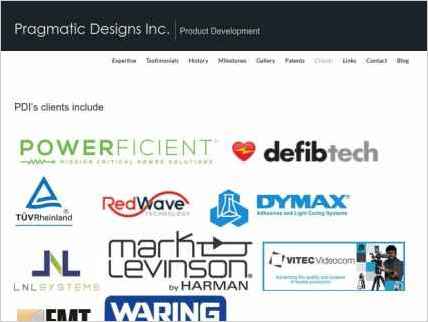 Describe your website.
My company provides electronic product development, project management, analog and digital circuit design, embedded microcontroller development, production test and ATE development, EMC mitigation, compliance engineering, PCB layout, prototyping, mechanism design, and other engineering services.
Who is the target audience for your website?
Manufacturers looking for product development services.
What is the advantage of your website over others?
I have extensive experience, a very wide range of interdisciplinary skills, and am professional, diligent, and creative.
Tell us a story about this website.
Having been steadily booked for the past nine years, I haven't needed a website to promote my business. Several long-term contracts are concluding now, however, so updating the site became an urgent priority; Sandvox made it possible for me to put up a new site in less than a week.
Why did you use this Sandvox design?
I chose "Lithium" from Behind the Rabbit, for its clean, uncluttered, high-tech look.
---
---
www.SandvoxSites.com/3230