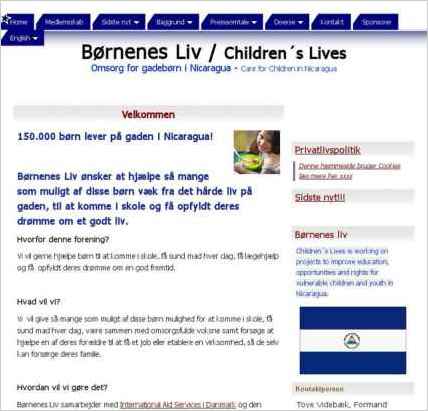 Agner Ebild used Sandvox to build this website. He chose the "Stars Blue" design for the site. People may want to visit the site if they are looking for Children Nicaragua.
Sandvox features used for this site:Blog, External Page, Site Map, YouTube, Other Objects, Raw HTML Object, Code Injection, Google Integration
---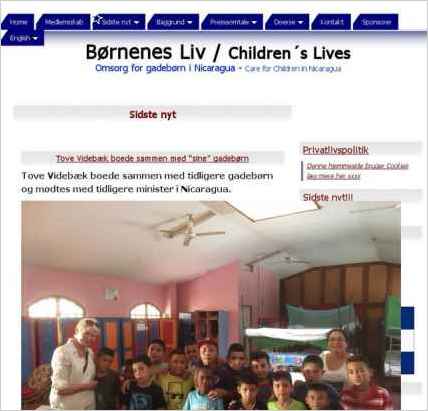 Describe your website.
News and information about the project of Børnenes Liv.
Goal: To help children in Nicaragua living on the street to a better life through care and education.
Who is the target audience for your website?
Børnenes Liv - Childrens' Lives is working on a project to improve education, opportunities, and rights for vulnerable children and youth in Nicaragua. The long term goal is a sustainable education model, addressing the underlying causes of the "street kid" problem by providing an ongoing system of education, vocational training, remediation, and improvement will be in place. The project will stimulate the financial well-being of Nicaraguan youth, affording them the hope, means, and the ability for an improved future, as well as teaching them to advocate for their rights
What is the advantage of your website over others?
It is a small organisation with very low administrative costs, because it is driven by volunteers. The money goes to the children.
Tell us a story about this website.
Provides relevant information
Why did you use this Sandvox design?
It matches the Nicaraguan flag in colors. It is easy to read and looks professional.
What techniques did you use to build this website?
Embedded Flickr and YouTube
---
---
www.SandvoxSites.com/3224