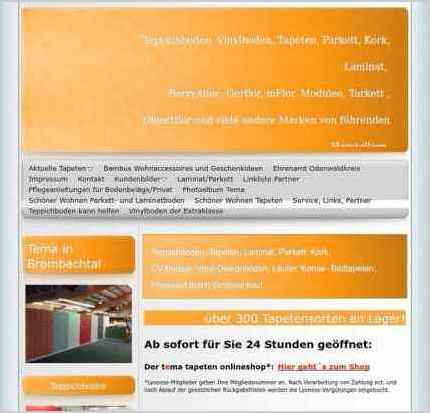 To build "tema-boden.de" for Tema Teppichbodenverkaufsgesellschaft mbH, Raimund Lukschanderl chose Sandvox. He chose the "This Modern Life" design for the site. People may want to visit the site if they are looking for Teppichboden, Tapeten, Laminat, Vinylboden, Läufer.
Sandvox features used for this site:Site Map, Contact Form
---
He entered his answers in German.
Describe your website.
Tema ist der große Teppichboden- und Tapetenfachmarkt in der Region Odenwald/Hessen.
Who is the target audience for your website?
Männer, Frauen, Menschen die Ihre Wohnung mit neuen Böden und Tapeten ausstatten.
What is the advantage of your website over others?
Größte Auswahl an Teppichboden, tapeten, vinylboden.
Preisgünstig durch Großeinkauf
Sehr gutes Fachpersonal
Tell us a story about this website.
Das Tema-Team lebt Tapeten und Bodenbeläge!
Why did you use this Sandvox design?
Die Gliederung hat mir gut gefallen
---
---
www.SandvoxSites.com/3222