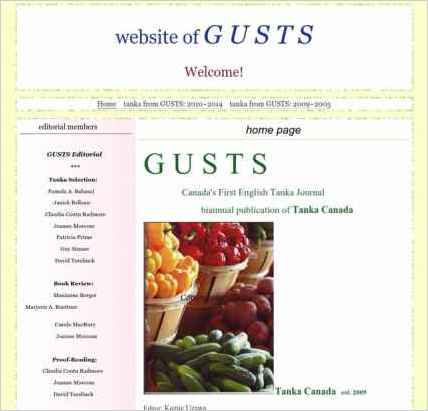 To build "Enjoy Tanka!" for Tanka Canada, Kozue Uzawa chose Sandvox. She chose the "Pacific Sky" design for the site. People may want to visit the site if they are looking for English tanka, Tanka Canada, subscription of GUSTS.
Sandvox features used for this site:External Page, Photo Grid, Contact Form
---
Describe your website.
This site is designed for people who enjoy tanka. It encourages people join Tanka Canada and subscribe to GUSTS, Canada's first English tanka journal. The site contains pages of selected tanka from GUSTS, my favourite tanka from GUSTS, about Kozue Uzawa, and some Japanese pages. GUSTS members worldwide can check the site from time to time. It is updated regularly.
Who is the target audience for your website?
The target audience is poets and general people who love to read and write poems, haiku, and tanka. Of course, the members of Tanka Canada/GUSTS should be regular viewers of the site.
What is the advantage of your website over others?
The advantage of my website is regular updating. New tanka of our members are added regularly. So it is encouraging for the members and it is informative for people who are thinking of joining us.
Tell us a story about this website.
While constructing my new website with Sandvox, I closed my old site. Of course, members were checking the site and wondering what happened to the site, I guess. When I sent them an email about my new site, everyone loved the new site, saying it's easy to follow, has a beautiful design, and is nicer than before. One mentioned, "Welcome back on-line!" They are keen viewers of the site.
Why did you use this Sandvox design?
I love the pastel colours (blue, white, beige, brown). I also like the frame because it does not have pictures, photos.
What techniques did you use to build this website?
I don't have any interesting techniques. I just transferred data from my old site as much as possible. So, I did not need to start from scratch.
---
---
www.SandvoxSites.com/3207