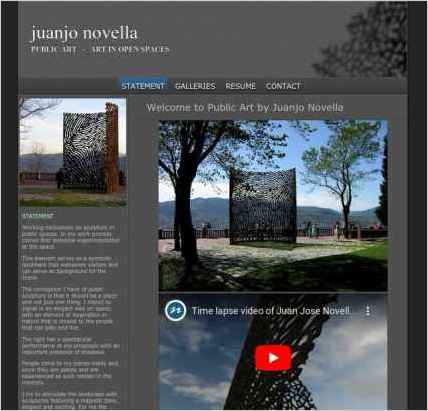 Juanjo Novella used Sandvox to build this website. He chose the "Smooth Dark" design for the site. People may want to visit the site if they are looking for public art, sculpture in open space, escultura monumental.
Sandvox features used for this site:Photo Grid, Contact Form, YouTube, QuickTime Audio/Video, Google Integration
Visit Public Art by Juanjo Novella - sculpture in open spaces »
---
Describe your website.
Working exclusively on sculpture in public spaces. In my work process, first comes sensorial experimentation at the space.
This element serves as a symbolic landmark that welcomes visitors and can serve as a background for the scene.
The conception I have of public sculpture is that it should be a place and not just one thing. I intend to signal space in an elegant way, with an element of inspiration in nature that is closest to the people that can play and live.
Light has a spectacular [element] at my proposals with an important presence of shadows.
People [are attracted] to my pieces easily. They are places and [since they] are experienced as such, remain in the memory.
I try to stimulate the landscape with sculptures featuring a majestic tone; elegant and exciting. For me, the combination of landscape, building, and human being are fundamental in the development triangle of my proposals. My sculptures still remain very large, very light, and visual creating an exciting relationship with humans. You feel warm and protected and can look through them.
Who is the target audience for your website?
The target audience is architects, city developers, public art managers, art lovers, and art buyers around the world. Age, gender, or race do not matter.
What is the advantage of your website over others?
This website is full of pics and the graphic sense is [apparent]. Also my experience is [vast], so I have a lot of pics of past works.
Why did you use this Sandvox design?
The grey is a neutral color to enhance the pics, and also is adaptable to a modern style. It is relaxing to see.
---
---
www.SandvoxSites.com/3206