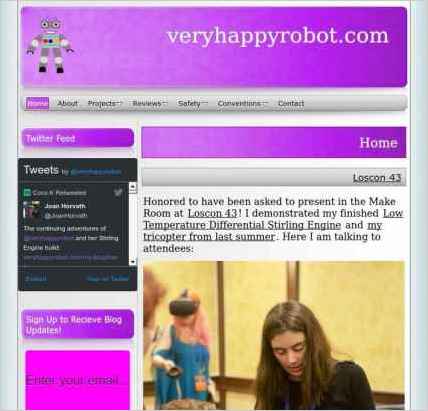 Coco Kaleel used Sandvox to build this website. She chose the "This Modern Life Violet" design for the site.
Very Happy Robot
(Website is no longer listed here.)
Sandvox features used for this site:Blog, External Page, Custom Collection Index, Site Map, Contact Form, YouTube, RSS Feed Object, Editing HTML of text, Raw HTML Object, Code Injection, Google Integration
---
Who is the target audience for your website?
Kids to adults who are interested in starting to learn technology would like my site.
Tell us a story about this website.
A customer at a multi-rotor (AKA quadcopter) provider was complaining that building something was too hard, and then they were referred to my site to show that a twelve-year-old girl (me) could do it.
Why did you use this Sandvox design?
I liked the color and the layout of the Sandvox design I used.
---
---
www.SandvoxSites.com/3104