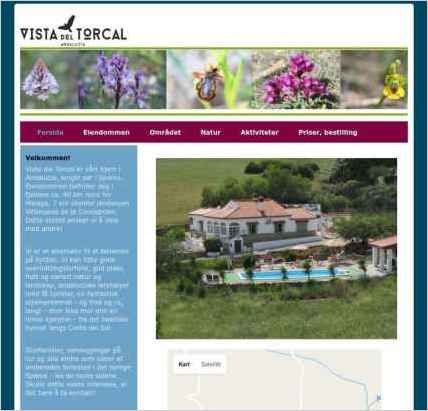 John Thomas Jastrey used Sandvox to build this website. He chose the "Into the Blue" design for the site. People may want to visit the site if they are looking for holiday home in Spain.
Sandvox features used for this site:Photo Grid
---
Describe your website.
We have a holiday home with room for 10-14 people, called Vista del Torcal. We are in the countryside in Andalucia in Spain, and thus are situated a little ways from the coast, where most tourists go. Inland, there is beautiful nature, good places to eat, and lots of interesting things to do and see. Our website is made to show some of this to potential guests.
Who is the target audience for your website?
Large families, smaller groups of friends on vacation, small businesses etc., are all potential users of Vista del Torcal, for shorter (1 week) to longer stays. A locally-based English couple meets all guests and helps with all needs.
Why did you use this Sandvox design?
The design was just what we needed to get our message through - being simple and easy to understand and use.
---
---
www.SandvoxSites.com/3107