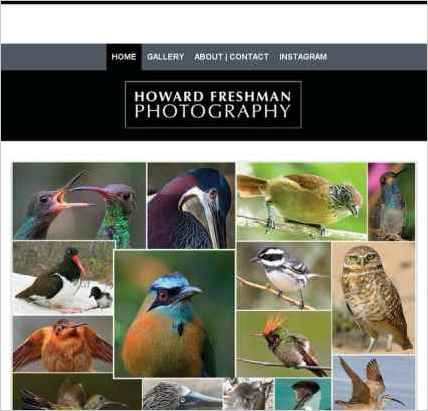 To build "Howard Freshman," Howard Freshman chose Sandvox. He chose the "Blueball Simplex Black" design for the site. People may want to visit the site if they are looking for Wildlife and Travel Photography.
Sandvox features used for this site:Photo Grid, Site Map
---
Describe your website.
The website features photographs of birds and wildlife with an emphasis on Latin America, particularly Nicaragua. Also featured is information about medical missions I've coordinated to the Rio San Juan region of Nicaragua.
Who is the target audience for your website?
I hope my site will appeal to anyone with an interest in nature, wildlife, and travel photography. Secondarily, I hope people will be interested in reading about Geral, a young boy born with spina bifida is getting medical treatment in Southern California.
Why did you use this Sandvox design?
I recently switched to Kryptonite because it allows me to better showcase photos and to present them in a clean, uncluttered manner.
---
---
www.SandvoxSites.com/3108