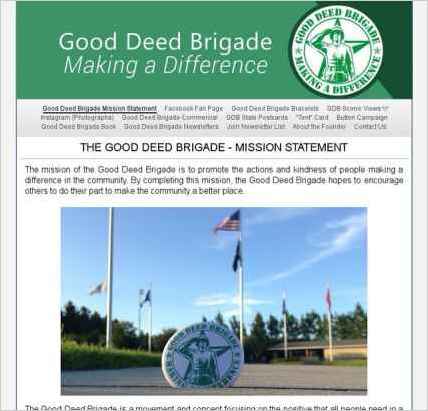 To build "Good Deed Brigade," David Wolf chose Sandvox. He chose the "Cirrus" design for the site. People may want to visit the site if they are looking for People of all ages and walks of life.
Sandvox features used for this site:Blog, Photo Grid, Contact Form
---
Describe your website.
The Mission of the Good Deed Brigade is to promote the actions and kindness of people making a difference in the community. By completing this mission, the Good Deed Brigade hopes to encourage others to do their part to make the community a better place.
Who is the target audience for your website?
The Good Deed Brigade is a great website for anyone who wants to read about the good deeds and good works of others in the community. The Website is geared to those who want to be inspired by positive people and their good deeds. Be part of the Good Deed Brigade and Make a Difference.
What is the advantage of your website over others?
There are plenty of outlets and sources of information online and elsewhere for "bad" news, tragedy, politics, war, economic strife, crime, etc. . . . . The Official Website of the Good Deed Brigade is one of the few websites out there dedicated to the promotion of the good in people without any strings attached in the form of fund raising or charitable monetary giving.
Tell us a story about this website.
A college student recently visited the Good Deed Brigade Website, posted a "Like" on the Good Deed Brigade Facebook Page, and requested a Good Deed Brigade button. The student was really impressed with the Website and the concept of promoting good deeds and goodwill in the community. She wrote that she was inspired by the Good Deed Brigade to do more community volunteer work even with a full course of studies and a part time job.
Why did you use this Sandvox design?
I selected the Cirrus Design from Sandvox because it allowed me to insert my banner and set up my pages with a clean, professional look.
---
---
www.SandvoxSites.com/2829