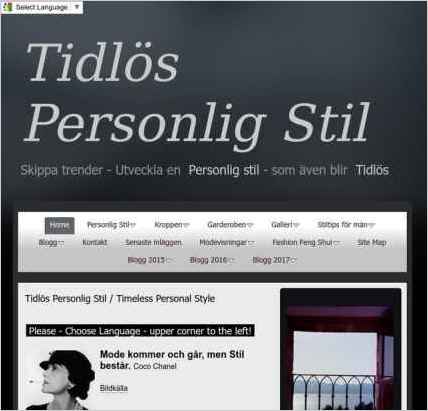 Maivor Wickman Olausson used Sandvox to build this website. She chose the "Aurora Palace" design for the site. People may want to visit the site if they are looking for Tidlos personlig stil audrey, timeless personal style audrey.
Sandvox features used for this site:Blog, External Page, Photo Grid, Custom Collection Index, Site Map, Contact Form, Amazon.com, YouTube, RSS Feed Object, Other Objects, Editing HTML of text, Raw HTML Object, Code Injection, Google Integration
---
Describe your website.
Who is the target audience for your website?
Mature women 30+, 40+, 50+, 60+, and men of all ages.
What is the advantage of your website over others?
[My website] is NOT commercial, and does NOT support trends; it's useful for everyone who cares more or less about clothing habits. It's meant to make the dressing part easier and take LESS time in your life, not MORE. There is a program in 10 steps you can go through to develop a personal style of your own. My website asks you to love the body you've got, build on that and evaluate your own wardrobe first, before you go out buying new!
Tell us a story about this website.
My elder sister is my inspiration. We tried to find a title that would say exactly what we would write about. At the same time it should show up on top when you Googled it - and it does: "tidlös personlig still audrey" - please Google!
Why did you use this Sandvox design?
I'm a minimalist person, so I had to use a Minimalist design.
What techniques did you use to build this website?
Drag and embed - everything. No limits. I also connected with Pinterest under Audrey46 and have acquired 3700 followers. I have many Boards regarding "Personal Style" issues, which lots of people follow.
---
---
www.SandvoxSites.com/2828