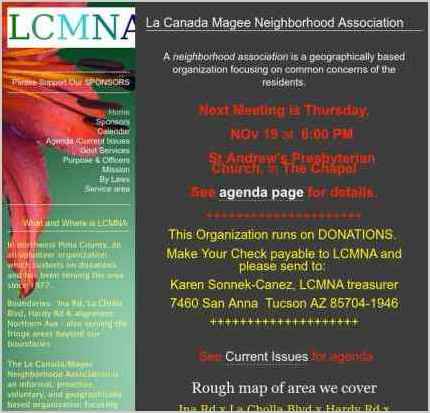 Sandvox was the choice for Gail Lawley to build her website for La Cholla Magee Neighborhood Association. She chose the "Grey Leaf" design for the site.
LCMNA
(Website is no longer listed here.)
Sandvox features used for this site:External Page
---
Describe your website.
The web site lists sponsors who help fund this volunteer organization, it links to a Google calendar showing events so non-Mac people can update the calendar. This site is a resource for local residents and links gov't services to Pima County, Tucson & the town of Oro Valley since our residents live in those 3 areas.
Who is the target audience for your website?
Anyone who lives in the NW part of Tucson will be interested in this website. They discuss plans by the water company, various builders, annexation proposals, and traffic plans and any other legislative or government issue that affects this area.
What is the advantage of your website over others?
The advantage of this website is that all the information can be obtained from one source instead of having to look at the fire department, police, etc. for your particular location.
Why did you use this Sandvox design?
It is an eye catching design and nothing else seemed suitable (there were no "official or government" type themes.
---
---
www.SandvoxSites.com/2878